Military & Government Approved Movers
Wheaton: The Military Move Experts.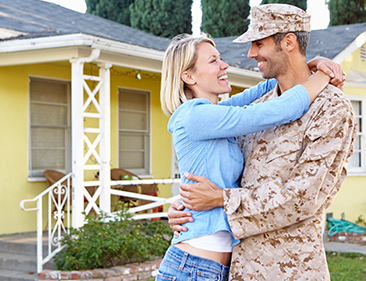 At Wheaton, we see it as our responsibility to make all moves as hassle-free as possible, and this is certainly just as true for all of our military moves and government relocations. Our team of agents, drivers, and move managers will work closely with you to ensure that everything runs smoothly, and the individual or family being moved is well taken care of.
GSA Approved Transportation Service Provider
Those who serve our country, whether in the military or through governmental agencies, deserve to be served. Wheaton will be there every step of the way to make sure that their needs are met, and we will never cut corners on quality and safety. That's why we're proud to be a top service provider for the General Services Administration.
Our dedication to quality and service is the reason we consistently score highly on GSA Performance Index customer satisfaction surveys, and we'll bring that same dedication to your move.
Participation in CHAMP
Wheaton is qualified under and supports the General Services Administration Centralized Household Goods Traffic Management Program (CHAMP). This program provides federal civilian agencies a framework for efficient and economical transportation of their employees' household goods from one official duty station to another.
Through the CHAMP Transportation Management Services Solution (TMSS) system, we coordinate moves with those federal agencies that prefer to administer their relocations through this GSA system.
Military Contacts and Resources
If you have general questions, need to verify your military shipment status before loading or in route, if your shipment is in storage, or to schedule delivery out of storage, please call 800-428-9572 or email [email protected].
To file a claim for loss or damage: 800-932-7799, or email [email protected].
For U.S. Federal Government or General Services Administration moves (non-military related): 800-932-7799, ext. 472, or email [email protected].
Additional Resources and Documents
The documentation required for military moves can be tough to keep track of, so we've provided some additional resources and handy documents to help you with your move. If you don't see what you're looking for here, please contact us directly.
---
Frequently Asked Questions:
Why should I hire Wheaton for my government or military move?
Wheaton is the industry leader in military moving and government relocation services. With decades of military relocation and military moving experience, we have the ability to make your military move hassle-free from start to finish.
How should I prepare for my first permanent change of station?
To prepare for your first permanent change of station, you need to visit your current base's transportation office; you will need to decide if you want a personal procurement move or a government-affiliated transportation service to relocate you. Then, notify the housing offices and your PCs. Finally, keep track of everything you move and save your documentation. Learn more!
How do I make the most of my military move?